Put a roof over your head
with Equinox Tiled Roofing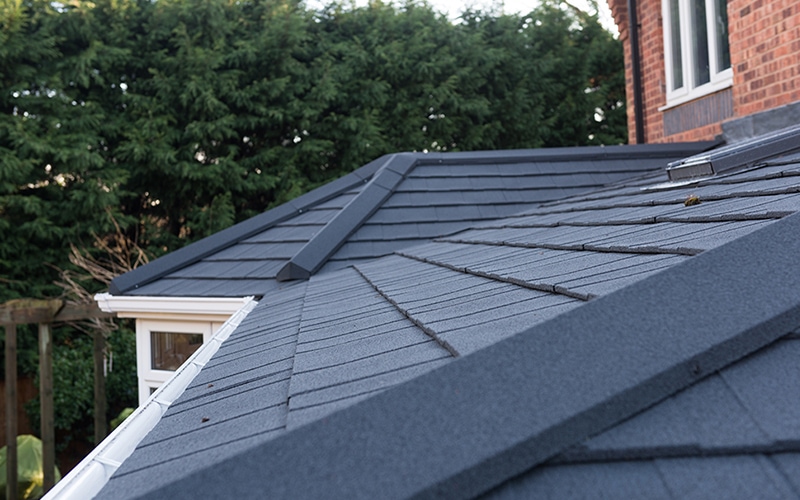 The beauty of an Equinox tiled roof conservatory is that it works just as if it was part of your home. You won't experience those extreme seasonal changes in temperature, glare from the sun or noise from the rain. Just comfort, space and light – all year round.
Equinox also gives you another way to personalise your space. The internal surfaces can be finished with plasterboard or tongue-and-groove so you can decorate it like a conventional extension. If you want to maintain a light, bright and airy environment, you can even opt for roof windows.
It's also the ideal way to transform tired, old conservatory roofs. Equinox can be easily fitted to any model or style and offers energy efficiency that's 10 times greater than an 'A' energy rated window.
Equinox tiled roof systems are compatible with all types of conservatories – whether it's a small lean-to or a large-scale P-shaped design – we can truly transform any space to suit your needs. Hipped or mono-pitch designs can easily be achieved, and the traditional aesthetics of Equinox ensures your roof will complement your conservatory and its surrounding environment – whatever you choose to use it for.
The fully insulated roof design achieves U-values as low as 0.15 – roughly 10 times more efficient than an A-rated window. This exceptional thermal performance minimises heat loss – which translates into reduced energy bills.
Equinox isn't just a great system for conservatory roofs either. This versatile solution can also be used to transform flat roofs – whether you are building a new extension or you have an existing flat roof that's ready for a change.In fact, no job's too small for Equinox. Even porches can benefit from a contemporary makeover.